The SFVA is consistently ranked as a top training site by UCSF medical students and Internal Medicine resident physicians for the exceptional quality of the educational experience. 
Faculty members are involved in curriculum development and leadership of undergraduate and graduate medical education programs at UCSF.  Several SFVA hospitalists have competed successfully for intramural medical education grants, received numerous teaching awards, and been inducted into the prestigious UCSF Academy of Medical Educators.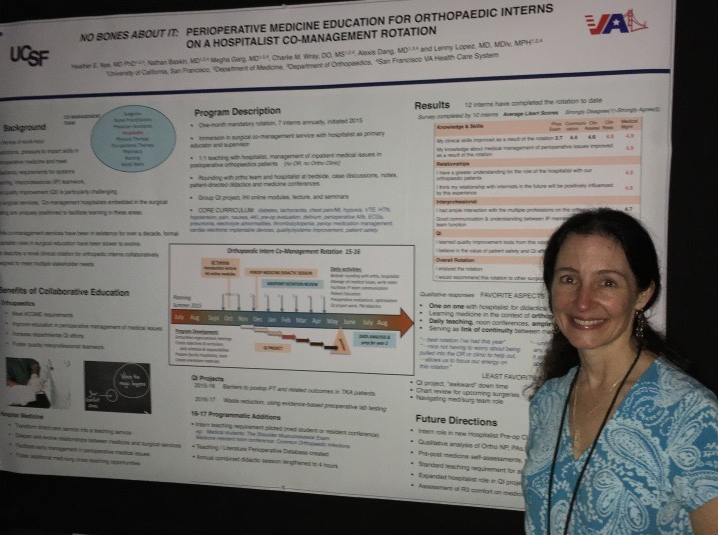 Currently, our faculty serve in a number of educational leadership roles including the following:  Deputy Associate Chief of Staff for Education at the VA, undergraduate medical education course directors, medical student coaches, Internal Medicine residency program site and specialty track directors, medicine elective directors, and medical student and Internal Medicine residency advisors.  There are two novel educational programs based in the VA Hospitalist Section.  The first is an early elective for medical students to obtain feedback and assistance on clinical skills by hospitalists and the second is a required orthopedic intern rotation on the co-management service.  Both programs are highly successful due to the dedicated and personalized teaching learners receive.
VA Hospitalist Faculty Roles & Activities in UME and GME
Undergraduate Medical Education / Bridges Curriculum
Course Directors for UCSF School of Medicine Foundational Science Blocks

Health and the Individual, Health and Society

Diagnostic Reasoning

Ground School

Leadership in Assessment and Evaluation (mini-OSCE, OSCE, Dashboard, ARCH weeks)

Small Group Facilitators across pre-clinical Bridges courses

Differences Matter Education Action Group - Committee Members
Graduate Medical Education
Deputy Associate Chief of Staff for Education, SFVAHCS

UCSF GME Committee Member

Hospitalist Monthly Noon Conference Series

Perioperative Medicine Monthly Noon Conference Series

UCSF Internal Medicine Residency Selection Committee

UCSF Longitudinal Resident Advising and Development Program

UCSF Internal Medicine Residency VA Inpatient Site Director

UCSF Internal Medicine Residency PRIME (Primary Medical Education—research track) Associate Director
UCSF Orthopedics Intern Hospitalist Rotation Founder & Director

Curricular innovations including clinical reasoning, QI, simulation exercises

UCSF Internal Medicine Residency R3 Teaching Elective Founder and Co-Director

Assistant Director of Curriculum and Mentorship HEAL Fellowship (Health, Equity, Action, and Leadership) 
Global Health Fellow Advisor, HEAL Initiative
Internal Medicine residency rotation co-directors - Jeopardy Plus and Procedures, Quality, Jeopardy (PQJ) rotation